Prague Clubs
Aloha Cocktail, Music Bar & Club, Dusni 11
This place shows an Hawaiian cocktail bar theme, has a small dance floor and mix of tourists, expats and Czech's, this is a fun place and just 5 minutes walk from the Old Town Square.
Bombay Cocktail Bar, Dlouha 13
Bombay is a lively music bar, a short walk from the Old Town Square. A good party atmosphere with 80s and 90s music, it attracts a large international crowd, and there is a small dance floor in the centre for those who need to dance.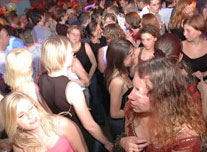 Duplex Dance Club, Wenceslav Square 21
Duplex has an striking top floor position in Wenceslas Square. A nice place to enjoy the views during the day, at night the club transforms into one of Prague's most popular nightspots for Czechs and tourists.
Karlovy Lazne Dance Club, Novotneho Lavka 5
One of the 'in' places in Prague to go if you are young and into serious clubbing.. it's located close to Charles Bridge. Spread over five floors, this is the biggest club of its type in Central Europe, sports a youngish crowd.
La Fabrique Bar & Club, Uhelny Trh 2
La Fabrique is one of Prague's oldest and most well-known clubs. Popular with both locals and tourists, La Fabrique is a super venue with bar areas upstairs and a striking nightclub area with dancefloor and drinking areas in the cellars below.
Nebe Cocktail & Music Bar, Kremencova 10
Nebe is located in restored medieval cellars. The bar is furnished in a contemporary style, and the music is funky, varying from r'n'b/house to 80s/90s/00s pop. Popular with local Czech's and the International crowd.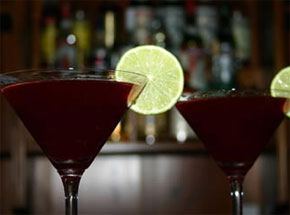 N11 Club, Narodni 11
N11 is a dark, but fairly modern underground club. Popular with young Czech's, on Friday and Saturday nights they play largely Hip-Hop and R&B, making it a good alternative to most other clubs in Prague.
Zlaty Strom Bar & Club, Karlova 6
A different kind of nightlife! Zlaty Strom's illuminated dance floor attracts young Czech teens, while the all night girl show proves popular with visiting stag parties. A curious mix, although somehow it does seem to work.
Solid Uncertainty Bar & Club , Pštrosova 21
The fiery red walls and huge circular bar in the centre of Solid Uncertainty give a very distinct first impression as you enter the club. It is a good one though, with plenty of atmosphere. A good venue on the Prague nightlife scene.
Lucerna Music Bar & Club, Vodickova 36
Lucerna near Wenceslas Square hosts gigs of popular Czech bands during the week and is an 80's/90's themed nightclub at weekends, with video accompaniment to most of the tunes. Best 80's club in Prague.
Lavka Bar & Club , Novotneho Lavka 1
Lavka Bar & Club is a great all round venue. On cold winter nights, Lavka is a good spot for a drink and a dance. On a hot summer's evening though, this is simply the best of Prague nightlife all rolled into one.
---