Prague Dining
Archiv, masna 3
Enjoy excellent French and Moravian wines in this picturesque French restaurant to go with high quality seafood and salads.
Bellevue, smetanovo nábř. 18
Is a formal restaurant from which guests can enjoy the views of the river and Prague castle. You can order a la cart or select from a number of different menus including European and Bohemian dishes. It is also renouned for its excellent weekend brunches.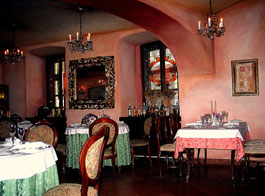 Cafe de Paris, u obecniho domu 1
This restaurant is usually quite bustling in the summer and enjoyed by many visitors. Light, international dishes are available such as pasta, salads and bagels.
Cafe Louvre, narodni 22
This famous historical cafe is in the heart of Prague and features many fine examples of period culture. The menu is Czech based with Italian varieties and you are guaranteed good service and prompt attention.
Cafe Savoy, vitezna 5
This cafe is a must see near the Vltava river in Mala Strana. It has a fine menu and complete with tables outside for the summer. It is a captivating place with the stunning painted ceiling and attentive service.
Don Giovanni, karoliny svetle 34
Has large windows and photos of Italian celebrities on the colourful walls. The cuisine covers all the major regional specialities with a seafood bias. Italian diplomats have made this restaurant near the Charles Bridge their home from home.
Kavarna Slavia / Cafe Slavia, smetanova nabrezi
The art deco, high windowed Cafe Slavia, queen of Prague's cafes, has welcomed just about every notable Prague writer, musician and actor over the past century. A large menu with a variety of wines and Czech beers to choose and light meals, including salads and Czech delicacies.
La Provence, stupartska 9
Here guests enjoy decently priced French country cooking in a cellar below a tapas bar . If the night time scene in this corner of Stare Mesto isn't for you then a lunch option is a calmer time to be there.
Lotos, platernerska 13
This vegetarian favourite has many options and the soups and salads are excellent. The main courses are built on central or southern European cooking such as vegetable strudels and polenta combinations.
Pizzeria Rugantino, dusni 4
Pizza was a rarity in Prague until the changes of 1989 opened the door to more that just political freedom. The pizzas and salads are excellent in this big, always busy place, which is popular with just anout everyone from backpackers to local celebrities. Noete that they do not accept credit cards.
U Benedikta, benediktska 11
Enjoy beef, pork and poultry dishes and enjoy a welcoming atmosphere. The surroundings offer views of renouned Prague sites and the restaurant is tastefully furnished in simple wooden furniture and an outside terrace.
U sv Valentina, veleslavinova 5
Little "St Valantine's" is a less expensive option than others, the atmosphere is created by art nouveau furniture and wallpaper featuring still life pictures. The traditional Czech menu has various kinds of breaded and stuffed chicken, pork, carp, trout with dumplings.
---