Prague Pubs & Bars
Beer is the essence of any Czech culinary attitude. It is produced according to Czech methods worldwide and its quality is respected everywhere. No wonder that the Czech Republic has the highest consumption of beer per citizen on an international level. You will find more than 800 Pubs in Prague to choose from and a few of them have existed for centuries. Czechs take great pride in their beers and tasting a beer in Prague is a must!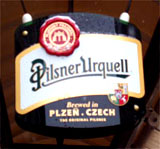 The wonderful thing about a country with such a deep-rooted beer culture, is that it consists of far more than just a handful of well-known pubs. Prague is full of them and they almost universally offer decent beer, as well as a diverse array of environments in which to appreciate the famous Czech brewing tradition and skills.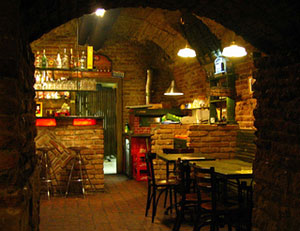 Away from the most obvious spots in the city centre ­ the Old Town Square, Wenceslas Square, Charles Bridge ­ old fashioned Czech Pubs carry on.

Some beer facts:
The Czech brewing industry has changed since the end of communism. Brewery closures, new technology and foreign takeovers have transformed the industry. In 1988 most Czech breweries were almost unchanged from 1930's ­ high quality but low productivity. Open fermenters, long lagering times and absence of pasteurisation produced distinctive and flavoursome beers. No other country came even vaguely close to the general high standard of Czech lager.
Pub U Zlateho Tygra
Husova street 17, Prague 1

A traditional 'Pilsen' beer restaurant with authentic atmosphere of Old Prague. Excellent Pilsen 12o lager (which you never get together with brandy, despite all your efforts) can be combined with enjoying delicious warm or cold meals. The beer restaurant was the first facility, which was supplied with beer-cheese regularly in Prague. Pub is well air conditioned.
Pub U Fleku
Kremencova street 11, Prague 1

The restaurant takes pride in its own brewery, especially the historic brewing house from the beginning of the century, the stacked cooling vats and the fermentors in the fermentation cellar made, according to old specifications, of oak wood. The brewery received its present look during the 1986 reconstruction that resulted in a modern, but unique historic brewery.
It is not really necessary to introduce the "U Fleku brewery and restaurant. Perhaps everybody who has walked down the Křemencová street has kept in mind a richly decorated clock on the brewery's facade that asks everybody to visit any of the several rooms of the restaurant. And everybody who has come in has kept in mind, or better on the tongue, a delicious and unique taste of "U Fleku 13° lager. Up to now the lager has been brewed according to old recipes, but in a newly furnished setting with the same care as in the time of our great grandfathers. The "U Fleku" brewery celebrates its 500th anniversary since it was founded in 1499.
Pub U Kalicha
Na bojisti street 12-14, Prague 2
This gastronomic oasis and the meeting place of fine tasters from all over the whole world didn't always look so romantic as it does today. The restaurant conceals legends but also historic truths. In the period of the influence of "Svejk" (read: Shvayk) - accordingly before the First World War - the gastronomic as well as social level, upon which we had become accustomed in "The Goblet", was quite different.
Sherlocks Praha
Bartolomejska 11, Praha 1

Average price for main course: 5 EUR. The original Czech Sherlock's Pub sits in a prime spot right in the heart of the Ostravas famous Stodolni Street which houses lots and lots of hip local bars and restaurants. The owner, due to a history of tremendous past success in Ostrava and a high demand for a spot in Prague decided to branch out and open a second location right in the heart of Prague's center - Bartolomejska Street in Prague. If you ask me, they couldn't have picked a better location. The locals and the tourists flood the streets all day and all night and once the menu at The Sherlocks becomes more known, the Sherlock's Pub is sure to become the talk of the town and a household name as it has done before in Ostrava. Which brings us right to the most amazing thing about Sherlock's. Their humongous menu, which consists of over 200+ mixed drinks, 70+ varieties of distills, 10+ kinds of beers and of course their enticing selection of delicious food which includes tasty morsels such as nachos with homemade salsa, juicy roast beef, a good choice of salads and even some lovely desserts.
---